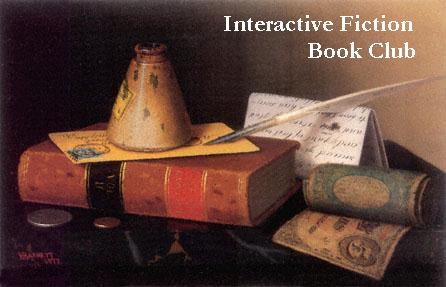 The IF Book Club is not a formal club that you have to sign up for, but simply a way to encourage play and analysis of older, often overlooked works of IF. To participate, visit this site to find out what game is currently under consideration, play the game, then join in the discussion about it on the newsgroup rec.games.int-fiction.
The February 2001 IF Book Club "modern" selection is
Bad Machine
Where can I get it?
Where are some reviews?

Dan Shiovitz's page

GMD
(Hints included but
are not exhaustive)



No direct reviews,
but referred to in:

R*IF discussion


Trailer:

<Scout212 repeat><Stoker316 end_term><Negotiator391 work><Climber411 advance_to (913,652)><Flyer6 advance_to (871,891)><Cleaner260 pause><Driller297 perform_task><Salvager266 perform_task><Transport22 change_jurisdiction Area17><Recycler421 repeat><Invader205 change_jurisdiction Area35><Assembler357 advance_to (94,8)><Assembler421 advance_to (835,838)><Transport486 repeat><Climber410 change_jurisdiction Area56><Worker22 change_jurisdiction Area33><Flyer408 advance_to (619,450)><Recycler268 begin_term><Scout187 work><Regulator144 pause><Shifter276 work><Climber307 advance_to (952,191)><Mover486 end_term><Transport171 advance_to (384,71)><Cleaner129 work><Cleaner435 perform_task><Recycler295 perform_task><Salvager438 repeat><Invader140 change_jurisdiction Area19><Cleaner218 work><Salvager104 work><Driller270 perform_task><Assaulter310 report power_level><Cleaner305 pause><Digger145 perform_task><Salvager414 advance_to (989,132)><Worker185 end_term>...
Trailer:



FC ALERT! Planetside systems are deteriorating. FC imbalance detected. 
Emergency reviving systems completed. You are now in control of the complex.

SENSA INTERRUPT: Seismic aftershock detected ten meters north of Beta FC. 
Tremor intensity 9.7. Projected damage: connecting cables in Primary and 
Secondary Channels.

FC INTERRUPT: All Robots, report locations.

IRIS: In the Weather Monitors.
WALDO: In the Gamma Repair.
SENSA: In the Central Chamber.
AUDA: In the Entry Area.
POET: In the Central Chamber.
WHIZ: In the Advisory Peripheral.


Coming Soon
&nbsp
Classic: Guild of Theives by Magnetic Scrolls
Modern: Heist by Andy Phillips