Gnomes
True gnome stories:
---
Gnomes Come Home After Widow's Plea
April 7, 1997
FRANKFURT (Reuters) - Thieves gave back 13 garden gnomes to a German widow after she appealed for their return in a newspaper advertisement.
``My late husband collected them,'' 75-year-old Erna V. said. ``Please bring back the gnomes.''
Her plea was heard. Over Easter all the gnomes reappeared in her garden, the mass circulation Bild newspaper reported Tuesday.
---
Police free garden gnomes, hold suspects in Francea
January 21, 1998
LILLE, France - French police have freed more than 180 garden gnomes and detained four suspected gnomenappers, investigators said Friday.
The four were being held for questioning after police in the northern town of Lille found two of the ceramic statues in their car and 182 more in apartment block basements.
Owners of missing gnomes were reported to be queuing up at Lille police station to put in claims.
---
Two die in Polish garden gnome factory blast
May 14, 1998
WARSAW (Reuters) - Two people died Thursday in an explosion at a Polish garden gnome factory, PAP news agency reported.
Three others were injured, one seriously, in the blast at the plant making ornamental garden figures in Kozuchow, near Zielona Gora in western Poland, the Polish agency reported.
The local regional prosecutor, Jan Wojtasik, told PAP that efforts were still underway to identify the remains of the victims and he did not yet know the cause of the blast.
The agency said, without giving a source, that the blast may have been caused by paint fumes mixing with air.
Gnome production has flourished in western Poland partly due to demand from neighboring Germany.
Unlicensed sales of German-style gnomes by hosts of small roadside stalls near the border have in the past evoked protests from German manufacturers.
---
Garden gnome liberators strike again
August 3, 1999
Gnome today, gone tomorrow. How did 143 of those pointy-bearded little garden statues-long considered good luck by some, the ultimate in kitsch by others-end up dumped on the lawn of France's Sarrebourg town hall on Monday? Nobody's saying. But those in the know suspect the Garden Gnome Liberation Front (FLNJ) could have the answer. The not-so-tongue-in-cheek group has spent the last three years "liberating" the little cement statues from French gardens to return them to their "natural" rural habitat. "How long, fellow Gnomes, how long have we listened to the smooth whispers of the man-species as they pick among our friends at the local garden center, praising one, rejecting another," proclaims the FLNJ on its Web site. "Rise up and break the bonds of slavery!"
The Sarrebourg mystery is less sinister than the last major gnome 'napping incident, in which French officials last year found 11 gnomes hanging by their necks and a note saying they were, "leaving this cruel world...to join the temple of oppressed gnomes." Nonetheless, it has shocked the gnome-loving community. "I don't understand why some people think they should be in the countryside," said Ann Atkins, founder of the Gnome Reserve in England. "In your own head a flower box can be the countryside." As for the latest incident: "I just don't like to talk about it," Atkins told Newsweek.com. "It might give people ideas."
---
Gnome Liberation Front Strikes Show
April 10, 2000
PARIS (Reuters) - The dormant Garden Gnome Liberation Front has sprung back to life, stealing around 20 gnomes during a night-time raid on a Paris exhibition.
``We demand...that garden gnomes are no longer ridiculed and that they be released into their natural habitat,'' the Front's Paris wing said in a statement following its weekend strike.
France's first garden gnome exhibition in the exclusive Bagatelle park on the outskirts of the capital opened last month and has been a hit with the public as chic Parisians develop a taste for kitsch culture.
The Garden Gnome Liberation Front vanished from the public eye in 1997 after a northern French court handed its ringleader a suspended prison sentence and fined him for his part in the disappearance of around 150 gnomes.
The only suspected sighting of the organization since then was a mass suicide of gnomes at Briey in eastern France in September 1998, when 11 of them were found dangling by their necks under a bridge.
A letter found nearby said: ``When you read these few words we will no longer be part of your selfish world, where we serve merely as pretty decoration.''
Now, the sight of 2,000 of the gaudy, colorful creatures dotted around the Bagatelle gardens has clearly proved too big a temptation for the group to avoid.
It warned that it would strike again unless the show was closed and all the gnomes released.
Organizers told the daily Le Parisien that they had no intention of bowing to the Front's demands.
---
Garden gnome-snatchers at it again
LILLE, France (Reuter) - Garden gnomes are disappearing again in France now that a spoof group idolizing Snow White and the Seven Dwarves has resumed its campaign to "liberate" the statues from flower beds and well-kept lawns.
The Garden Gnomes Liberation Front (FLNJ), which operates seven-member night-time "commandos" to snatch the gnomes, has made off with a dozen ceramic dwarves this week around Dunkirk, near the Belgian border, residents say.
The masked raiders declared a "truce" in January after rounding up about 30 gnomes in Normandy and "freeing" them in local forests, presumably to return to the normal life of a story-book dwarf.
In each of the latest abductions, the FLNJ left a message saying: "Dear Papa, Dear Mama -- I was happy with you but now I have to leave you. Signed: your garden gnome."
One message said the FLNJ wanted to "reeducate" the dwarves.
Local police said they had not launched any investigation into the wave of gnome-snatching because no owner has come forward with an official complaint.
---
Gnome injures gardener three times
November 2, 2000
A gardener who bought a garden gnome called Stan for £10, has been injured by the ornament three times.
Michael Naylor, from Boroughbridge, North Yorkshire, says he would get rid of it, but he daren't go near it.
Just an hour after the 30-year-old bought the 7lb statue, he broke a toe after dropping it on his foot.
Four weeks later he decided to move foot-high Stan to a flower bed because he was fed up with it grinning at him from the patio by his lounge.
But Michael lost his grip and Stan fell on his hand, wrenching ligaments.
This week he bent down while weeding and was stabbed in the eye by the red-jumpered rascal's wooden fishing pole, reports The Sun.
Electrician Michael, who bought Stan at a sale near his home, said: "I wish I'd never seen Stan."
---
Garden Gnomes Gather in Shadowy Operation
July 12, 2000
STRASBOURG, France (Reuters) - More than 100 garden gnomes and other gaudy statues were discovered on Wednesday assembled on a traffic circle in eastern France, a police spokesman said.
Some of the statues were set up to spell out ``Free the Gnomes.'' No one claimed immediate responsibility for the stunt, but police said it bore all the hallmarks of the shadowy Garden Gnome Liberation Front.
The kitsch little creatures were reported stolen from numerous gardens around the town of Chavelot overnight and subsequently gathered together on the roundabout.
``It was a bit like a giant creche. Everything had been carefully set up,'' a police spokesman said.
The Gnome Liberation Front rose to prominence in the mid- 1990s following a series of raids on gardens to ``free'' gnomes and ``return them to the wild.''
The group suffered a setback in 1997 when a court handed its ringleader a suspended prison sentence and fined him for his part in the disappearance of some 150 gnomes.
After briefly going to ground, the Front hit the headlines again in 1998 when it staged a mass ``suicide'' of gnomes in eastern France. Last year, the group struck Paris, stealing around 20 gnomes during a night raid on a Paris garden exhibition.
---
French Gnomes Helped on Way to Spiritual Freedom
July 13, 2000
STRASBOURG, France (Reuters) - More than 70 garden gnomes were found on the steps of a cathedral in northeastern France after an undercover operation by the shadowy Garden Gnome Liberation Front, a regional newspaper said on Thursday.
The kitsch creatures had been abducted from their green, floral homes and assembled on the steps of the cathedral in the town of Saint-Die, La Liberte de l'Est reported.
A banner of the Gnome Liberation Front, which aims to ''free'' gnomes and ``return them to the wild,'' was found at the scene.
Local police who gathered the little statues declined to comment to journalists in an effort to contain what appeared to be a spiraling of gnome abductions in the area.
This is the second covert operation by the Front in as many days. Motorists in eastern France were surprised to find more than 100 gnomes, snow whites and other gaudy garden statues on a roundabout on Wednesday. Some were arranged to spell out ''Free the Gnomes.''
---
Gnome 'Liberators' Charged
College Students Accused of Theft of lawn statues from Newark seniors
December 25, 2001
NEWARK (Tuesday, December 25, 2001) -- Two 18-year-old college students have been accused of stealing garden gnomes from elderly residents of this Wayne County village.
James Bialek Jr. and Peter Chambers were charged Friday with fifth-degree criminal possession of stolen property, said Newark police Sgt. Thomas Smith.
Fifth-degree criminal possession of stolen property refers to stolen property worth less than $1,000.
Smith said the value of the property was probably closer to a few hundred dollars.
Chambers is the son of Newark Village Justice Bruce Chambers.
Bialek could not be reached by telephone. Peter Chambers declined to comment.
Smith said the pair is accused of leading a group of recent Newark High School graduates who called themselves the Garden Gnome Liberation Front.
The other teens cooperated with authorities and were not charged, Smith said.
Garden gnomes were snatched from the lawns of about six homes in the village last summer.
Liberation Front members left behind mysterious calling cards.
Later, 24 stolen ceramic, plastic and concrete figurines were found posed in various spots around a local baseball field as if they were playing baseball.
The Liberation Front members even established a Web site. In August, members announced on the site that they would stop the gnome thefts and focus on starting other local chapters.
The Web site was key in solving the crime, Smith said. Armed with a subpoena, police were able to trace the site, posted with the help of a Yahoo search engine service, to their suspects, Smith said.
Although some residents laughed it all off as a youthful prank, others took the thefts very seriously.
"I'd hate to see those kids go to jail, but I do think they need a good slap on the hand," said 74-year-old victim Jessie Rice. "They did wrong. People have a right to put things in their yard without worrying about kids stealing them or smashing them."
"We treated this the same way we would treat anybody else that reported a crime, and the victims were very adamant on arrest," said Smith.
"I'm sure there's controversy on it. We tried very hard to treat it exactly the same way we would any other case," Smith said.
"It was not a priority. This has been going on since July. We had this case put together since September, but these kids were away at school and we waited until they were home and called their parents and said, 'Hey, this is the situation, bring them on in and get it squared away,' and they did," Smith said.
Chambers and Bialek are due to appear in Newark Village Court on Thursday.
---
Placard-carrying gnomes take to Jersey streets
Garden gnomes carrying placards have mysteriously appeared on roads on Jersey.
They've been spotted by motorists at various locations, but the reason behind their appearance is a mystery.
The gnomes' placards carry messages such as "Justice not Jail", "Generation Why" and "Elves Presley".
It's not known who or what the gnomes are protesting about.
The Jersey Evening Post says the gnomes have cheered and confused hundreds of drivers around the island.
The paper says neither local officials nor the States police can shed any light on why they have taken to the streets.
---
Gnomes win right to have female friends
February 27, 2002
Garden gnomes have won the right to female gnome company during their first international congress in Germany.
They have also been given legal backing to ensure they aren't left at their posts after 5pm, or exposed to the elements during the night.
Any gnome who violates the new working directive could be fined up to 100 gnome euros.
Members of the International Association for the Protection of Garden Gnomes also want gardeners to be issued with lawnmower licenses to ensure the safety of gnomes.
Twenty members dressed as gnomes handed a petition to the mayor of Chemnitz, the town hosting the congress. They are fighting for the integration of garden gnomes into society.
Social Democrat mayor Peter Seifert was asked to do his best to serve the gnome community and welcomed them to the town hall.
The congress will continue until March 2 and is complemented by an exhibition of historic gnomes dating back to 1872.
The association has members in Germany, France, Switzerland and Austria and has gained attention by liberating gnomes from gardens and setting them free in forests.
---
Kidnapped lawn gnomes return home
November 25, 2002
BARTLETT, Illinois (AP) -- Dozens of mystical creatures that disappeared in this suburban Chicago village have been found, but several have yet to find their way home.
Police said the teens stole almost 60 lawn ornaments in the past six months from homes in Bartlett and neighboring Streamwood. The value of the creatures, which ranged in height from less than a foot (30 centimeters) to 4 feet (1.2 meters), was estimated at up to $150 each.
"We even had five of the seven dwarfs at one time," said Debbie Speciale, police records supervisor. "Apparently two escaped capture."
While most homeowners have claimed their missing gnomes, the police department still has 16 figurines to reunite with their families, Speciale said. If owners don't claim them, the little guys will be auctioned off in May along with the department's other unclaimed property.
The three boys were each charged as juveniles with one count of theft, and one was also charged with criminal damage to property.
---
Police Watch Abducted Gnomes Gather Dust
October 28, 2003
PARIS (Reuters) - A French police station has been stuck with a room of homeless garden gnomes, victims of a wave of gnome abductions, after a fresh bid to trace their owners failed.
Only a trickle of people showed up for Monday's "gnome return day" at the police station in Saint-Die-des-Vosges, near the eastern city of Strasbourg, and only one person was reunited with their stolen gnome, police said.
Some 75 kidnapped gnomes were recovered in 2001 after a group called the Garden Gnome Liberation Front released them, leaving them on the steps of the Saint-Die-des-Vosges cathedral. Police are yet to reunite 43 of the gnomes with their owners.
"In wanting to set them free, the Liberation Front has virtually imprisoned them," policeman Sylvain Brucker told Reuters, adding that the local prosecutor could decide to sell the kitsch garden ornaments in a police auction.
"Perhaps there are people with gardens who would like to adopt them," he said.
---
NZ train driver on stress leave after running over garden gnome
January 19, 2004
A New Zealand train driver went on indefinite stress leave after running over a garden gnome which he feared was a child.
The gnome was apparently placed on rail tracks in the North Island city of Tauranga, south of Auckland, as a practical joke, police said.
But when the driver's train struck the small figure in the early hours of Tuesday morning, he believed he had killed a child and called police.
A small pair of boots were found on the track but when they turned out to be made of pottery, the truth began to dawn. Other shattered pieces of pottery were found nearby.
Rail company Tranz Rail had to send relief staff to take over from the shaken driver, who was on indefinite stress leave, spokeswoman Sue Foley said, adding the incident was "a stupid prank".
---
Kidnapped garden gnomes found in snowy Swedish forest
January 20, 2006
STOCKHOLM (AFP) - Twelve garden gnomes kidnapped in western Sweden a month ago have been found in a snowy forest, standing in a ring beside a lighted bonfire and a small hut, Swedish news agency TT reported.
"It looked very cozy," Bo Larsson, a police officer in the town of Kil, near Karlstad, told TT on Friday.
The gnomes mysteriously vanished from their gardens just before Christmas.
A letter from the "Garden Gnomes Liberation Army" later claimed responsibility for their disappearance, explaining that the dwarfish figures had pined for freedom.
Larsson said the gnomes had, however, declined to collaborate in the investigation.
"We've tried to squeeze them for information, but they're staying mum," he said.
The police station extended its opening hours on Friday so owners could come by and claim their property.
---
Gnomes footy prank annoys police

March 20, 2006

A TEAM of garden gnomes has taken to a Melbourne footy field, but police are not amused. The Aussie Rules season may not start until April 8 for Melbourne's Wyndhamvale Falcons, but the mischief has already begun.

For the second time in a few years, a collection of 19 garden gnomes has been discovered, set up in football positions, on the Wyndhamvale Football Ground, in the city's southwest. "I am surprised actually. I don't know too much about it," Falcons president Scott Crawford said. But past president Tony Schibeci shed some light on the mystery. About three years ago the same thing happened, with garden gnomes stolen from homes in the local area. "They were all set up in different positions. They were taken from nearby homes," Mr Schibeci said. Constable James Constance, of Werribee police, today said no one had yet claimed the gnomes. He urged anyone missing one of the cheerful fellows to call police. He also had some advice for the pranksters. "They have stolen property so they should think about their victims," Const Constance said. He said he could not explain why 19 gnomes were arranged on the field, with Aussie Rules teams only have 18 players on at a time.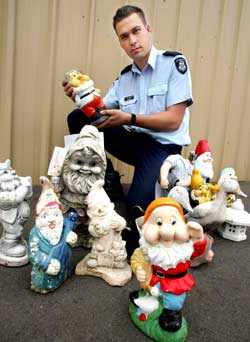 Gnome-napped: 18 gnomes and a duck are being held custody at Werribee police station.
---
New gold seller tactic: Trying way too hard
July 6, 2007
Apparently, a certain gold seller got creative when trying to figure out ways to advertise past Blizzard's spam filter. The gold farmers created hundreds of identical level 1 gnomes, postion-hacked them into mid-air, and let them fall to certain doom in a way that spelled out the web address of their gold-selling site, which I'm not going to name here because I don't want anyone to get keylogged or anything. Looks like they've lost part of their "W", though. Players on Arthas, Frostmane and Eitrigg have reported the same tactic by different companies.
This makes me kind of glad I'm Horde, because I can't see anyone finding enough flat ground in Orgrimmar to do this successfully. I also have to give credit to the gold sellers for trying way, way too hard on this one. Taking the time to make all the level 1 gnomes, hack them into midair, and then arrange your company's name for ... what? Is there anyone out there who actually sees gold selling advertisements and goes, "Gee, buying gold. I never thought of that before, but now I will visit your lovely web site. Thanks, Jmhmltcawf/random dead gnomes!"
What's next? Raids made of gnomes whose names, read in conjunction, make up an advertisement, kind of like those old Burma Shave signs?
---
400 gnomes disappeared in Austria, and it's causing a political scandal
Aug 26, 2014
ast weekend in the mountainous Austrian state of Vorarlberg, 400 gnomes disappeared. Nobody knows where they have gone. But everyone knows it's down to politics.
With regional elections set for Sept. 21, the left-wing Social Democratic Party ordered 20,000 gnomes called "Coolmen" earlier this year. The gnomes, toting sunglasses and campaign signs, were the party's last-ditch effort to prevent an electoral defeat in Vorarlberg. About 400 of the gnomes were attached to lampposts on Saturday as alternatives to traditional posters, but their mass disappearance by Sunday morning was conspicuous.
"I suspect our rival party OeVP [the Austrian People's Party] to have removed the gnomes," local Social Democratic Party leader Michael Ritsch told The Washington Post on Tuesday. Ritsch has filed a complaint, and the state's police forces have launched an investigation.
Speaking to Austrian public broadcaster ORF, the local leadership of the OeVP party denied the allegations. The party's local general manager told ORF that people who leveled such unfounded accusations were no better than the actual gnome thieves.
But Ritsch persists with his accusations. "All of our gnomes are 40 centimeters tall. The thieves must have needed more than just one truck to steal them," he said. And he points out another interesting detail: Soon after the gnomes were removed, he said, posters advertising the OeVP party were put up in the same spots.
Austrian political commentator Thomas Hofer, who studied election campaign management in Washington, is skeptical about the success of using gnomes. "Knowing that their party was about to lose the campaign, they tried to be perceived as humorous by comparing themselves with little gnomes. However, the symbolic reference causes the opposite reactions it is supposed to," he said.
---
Falco knew the consequences of gnome hatred:

---
Note 1: This image taken from Treoir Magazine.

Note 2: This image taken from the book Blooming Meadows: The World of Irish Traditional Music. The woman on the right is Sharon Shannon, the happiest box player in Irish music.